SQF 2000 Approved Food Processing Floors
EP Floors Corp. is recognized as the leading U.S. installer of USDA, FDA,FSIS accepted urethane flooring, for the food processing industries.  Our flooring meets guidelines for SQF 2000 certification and helps ensure compliance with the  FDA  
Food Safety Modernization Act  (FSMA)
.
Our food processing floors withstand severe abuse in the same environments where epoxy floors, and other conventional flooring fail. This seamless, non-porous floor finish is highly durable,  easy-to-clean, and will help you pass your inspections with flying colors !
NOTE:  SQF 2000 certification does not permit brick or tile flooring (due to grout joints, which may harbor bacteria). EP Floors can often prepare the surface of brick & tile flooring, to receive our seamless urethane mortar flooring (without complete tile removal). Please contact a project estimator for more details!
SQF 2000 Regulations for Processing Floors
SQF 2000 is quality management system used to verify the level of implementation of a specific food safety and quality plan by a food manufacturer/supplier.  Verifications are performed by a third-party audit.  All auditors are certified and registered by the Food Marketing Institute, the entity that administers the SQF 2000 system.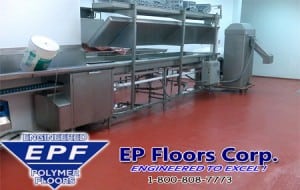 SQF 2000 CODE
Section 5.2.2 Floors, Drains and Waste Traps
5.2.2.1: Floors shall be constructed of smooth, dense impact resistant material that can be effectively graded, drained, impervious to liquid and easily cleaned.
5.2.2.2: Floor Drainage – Floors shall be sloped to floor drains at gradients suitable to allow the effective removal of all overflow or waste water under normal working conditions.
Floors and drains will always have a higher rate of contamination than food contact surfaces, and fortunately, floors and drains are somewhat removed from direct product contact. However, the frequent presence of Listeria organisms in floors and drains does create an ever-present potential threat of cross contamination to food contact surfaces in the post-lethality environment. It is recommended that processors work with sanitation suppliers to develop a sound floor and drain sanitation program if they don't already have one in place. Such a program may include:
The professional installation of highly durable seamless urethane flooring
More routine scrubbing of floors and drains
Application of high levels quat sanitizers
Limiting use of high pressure hoses (which create aerosols, which transport bacteria).
Installation of foot baths.
Altering/limiting employee foot traffic where possible.
TOP 10 ADVANTAGES OF EP FLOORS —FOOD PROCESSING FLOORS