Tufco Flooring/ Compare Us !
EP Floors Corp. does not install Tufco flooring brand, but provides an odor free, non toxic floor alternative, called Puma-Crete.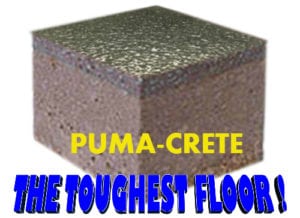 Puma-Crete is water and cement based, high performance urethane mortar.  It is a troweled floor, applied up to 3/8 inch thickness. This flooring cures even in cool, damp conditions, and provides a highly durable, waterproof, impervious surface for food & beverage processing areas.
Additional benefits include:  excellent thermal shock resistance (hot spills, washdowns), chemical resistance, permanent slip resistance, and is USDA approved flooring, accepted by the USDA for food & beverage processing applications.
EP Floors specializes in troweled flooring for food processing, for industrial Food & Beverage processing plants.   We perform a thorough analysis of your site conditions, a detailed quotation, and provide a turn key installation with our own professional crews (fast turnaround specialist), and an exclusive five year warranty.
We provide turn-key  industrial flooring installation and repair, with our own company crews, along with a single source warranty. We shall accommodate your production schedule, to help minimize or eliminate downtime; this may include scheduling over weekends, shutdown, holidays, or even while in production, if necessary.

WE GUARANTEE  FAST TURNAROUND !
Contact us today for a detailed analysis and quotation for your area !
Quote turnaround in as little as 48 hours            1-800-808-7773
note:  EP Floors Corp. is not affiliated with Tufco Intl., tufco green bay,tufco energy,tufco green bay wi,tufco newton nc,tufco lawn, or Tufco flooring