WAREHOUSE FLOOR COATINGS
EP Floors Corp.  provides knowledge and expertise in warehouse and loading dock floors, using the latest high performance epoxy and polyurethanes.
Industrial flooring
systems range from
thin mil epoxy coatings
to 1/4″ trowelled 
epoxy flooring
,  
urethane resurfacers
, and non slip systems. We have a system to fit your needs!
We provide Turn Key installation of warehouse epoxy floor coatings with our own crews, along with a solid, single-source warranty. Work may be done over weekends, holidays.
Fast turnaround is guaranteed !
"Perfect for warehouses that are in the corporate spotlight"
Loading Dock and Warehouse Floors
DO IT RIGHT, DO IT ONCE!
Warehouses and loading docks are tough environments for flooring.  Bare concrete has cracks and joints, which combined with heavy traffic conditions, can cause concrete spalls and breakage, potholes, low spots, etc.  This can wreak havoc on the wheels and suspensions on your material handling equipment; the repairs can run into the tens of thousands of dollars.
The ideal epoxy floor system for your warehouse will exhibit a level, durable, seamless, easy-to-clean finish, and provide a permanent solution for your facilities' flooring needs.  3/16 to 1/4 inch epoxy resurfacers or trowelled epoxy toppings are the heaviest duty systems, and can withstand even the heaviest of vehicle usage, including forklifts and other heavy warehouse equipment.  For low to medium traffic warehouses, or shorter term applications (leased facilities, etc.) we provide thin mil coating systems.  These systems provide the same cleanability, dust proofing, and abrasion resistance as the troweled resurfacers, but are not as scrape and gouge resistant, as the epoxy resurfacers.
The first step in selecting the right warehouse floor covering is to carefully determine what kinds of stresses the coating will be expected to tolerate.
Consider the following 3 requirements:
The nature of the materials stored in the warehouse
Corrosive liquids, solvents and specialty chemicals often demand a floor finish that can withstand potential spills, as well as the abuse dished out by the handling equipment typically used to maneuver containers that hold these kinds of materials (This type of area typically requires a trowelled epoxy or urethane resurfacer).
The aesthetic expectations of the facility
A warehouse that is routinely part of corporate "dog and pony" shows must sparkle for every new visitor, and the floor finish must return to its initial luster upon regular cleaning. The coating must also be able to withstand the rigors of that frequent cleaning without chipping, undo wear, fading or discoloration.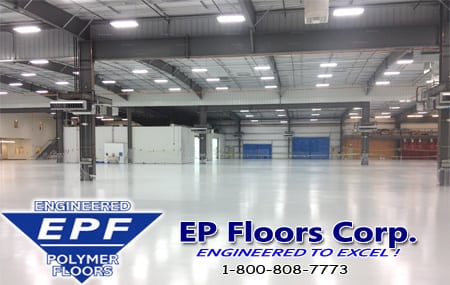 Cleaning and Maintenance
The floor coating must retain its essential properties in the face of routine maintenance. Cleaning and scrubbing, power-sweeping, automated buffing, and similar procedures designed to keep the operation in top shape can damage the floor finish unless it is specifically formulated to endure such treatment. Many cheap do-it-yourself coatings are on available, which can be damaged, from using the wrong cleaning solution or floor polish, and can wreck an initially perfect finish.
There are two primary warehouse floor coating systems that are recommended, and each has its own strengths and weaknesses:
Epoxy/Polyurethane hybrid system – Thin Mil Coatings
Epoxy primer coat seals the concrete, and provides maximum adhesion and build thickness to the system.  Polyurethane topcoat is applied for maximum cleanability, gloss retention, abrasion,chemical, and slip resistance.  Typically used where the concrete is not heavily worn or rough, and traffic conditions are low to medium. It does not have good impact resistance, or resistance to scraping or gouging.  However, this system provides outstanding wear resistance, chemical resistance, cleanability, gloss and light reflection.
Note:  epoxy is not typically recommended for the topcoat, since it has poor color stability (fading, staining, etc.), lower scratch resistance, gloss retention, and slip resistance.
1/8 to 1/4 inch Urethane Resurfacer system (trowelled or self leveling)
This system is highly durable for heavy traffic conditions, and provides a permanent solution;   it has the added benefit of restoring a heavily damaged concrete floor, to a smooth condition, and providing a vapor barrier for the concrete, which is needed in certain circumstances.   An epoxy/urethane thin mil coating system is typically applied over this, for maximum cleanability, gloss retention, abrasion,chemical, and slip resistance.
While it is certainly possible to apply any coating using in-house personnel, this is not recommended unless they have extensive experience using the selected resin system. In the end, the premium spent on professional application will pay for itself in terms of coating longevity and performance.