Make Huge Difference in your Industrial Floors with Epoxy Flooring
It is needless to say that your commercial or industrial flooring needs help every now and then. Your commercial or industrial floor setting should not only look great, but it really needs to perform well. At EP Floors Corp., we are specialists in professional floor care and maintenance. In this regard, epoxy floors are an ideal solution for many businesses and industrial environments. Epoxy floors are made to meet different environmental needs in order to fulfill a wide variety of industrial requirements.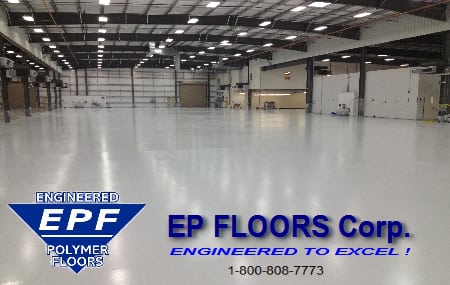 EP Floors Corp is an industrial flooring RI consultants and turnkey solutions company, specializing in light/heavy duty manufacturing flooring and other customized applications, including Food & Beverage, Electronics (Anti Static, ESD, and Conductive), Warehouses, Chemical Processing, Pharmaceutical, Clean Rooms, Aerospace/Hangars, Hazardous Storage & Processing, etc. For example, say, floors in pharmaceutical company require a rapid return to service. EP Floors Corp completes the floor installation in a quick manner so that the staff could get right back to their work. We take pride in finishing our every project during normal business hours and with limited to no disruption to our client. And when it comes to color and gloss retention, epoxy floors work hard and look great as they are chemical and impact resistant.
If you are looking for industrial flooring Rhode Island Company, then why not give a call at EP Floors Corp? We have worked with numerous commercial clients and have great experience in epoxy flooring manufacturing and installation. It would be our pleasure to help in meeting your unique needs that you and your facility have. We will deliver you the floor that makes a huge difference in your industrial floors with epoxy flooring. Book free consultation with one of our professional crew members and learn more about epoxy flooring and its application in industrial settings. Let's discuss your project today!
About EP Floors Corp.
For more information on EP Floors: http://www.EPFloors.com
EP Floors provides consulting and full service contracting of floors for all types of light and heavy duty manufacturing and processing facilities. Specializing in epoxy flooring and urethane mortar flooring, EP Floors is vertically integrated, providing manufacturing and installation…true single source, turn key responsibility.