EP Floors Corp. has partnered with Crawford Laboratories, Inc. We install the complete line of Florock products, including epoxy, polyurethane, polyurea, polyaspartic, epoxy/urethane hybrids, electrostatic dissipative and conductive flooring systems, vapor mitigation systems, and much more.
Crawford Laboratories, Inc. is a respected leader in the manufacture, research and development, of solutions-oriented concrete floor coatings and toppings. Independently owned and operated for 60 years, and is located in Chicago, Illinois. Crawford Laboratories was founded on the principles of cutting-edge technology, innovation, and impeccable integrity.
Established in 1952, Crawford's development team formulated the distinctive line of Florock  floor coatings with the ability to withstand the broad spectrum of conditions that polymer coatings are exposed to. Extensive lab and field tests have proven Florock polymer flooring to be an outstanding flooring system for industrial and commercial applications.
Florock understands that their most valuable assets are their customers.  Quality concrete coatings, competitive pricing and large inventories are important, but for Florock, it is not just the quality polymer coatings, it's the customer service!
Florock is manufactured in the U.SA. by Crawford Laboratories, Inc.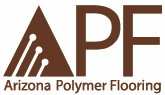 Partnering with Arizona Polymer Floors has enabled us to service the west coast market, as well as expand our product offerings and services.
Using advanced polymer chemistry, APF has formulated a wide variety of high-quality products based on epoxy, polyurethane and acrylic technology. Every product is field tested for performance and durability. They have invested heavily in the research and development necessary, to bring some of the most innovative products and systems to the market.
For a quotation, or more information, including the color availability, technical properties, or other properties of any of EP Floors Corp. floor systems, please contact the technical support team at our office.