USDA Approved – Seafood Flooring
Seafood plant processing floors
 are exposed to extreme conditions; mechanical abuse, thermal shock, chemical/bacteria attack, wetness, sanitizers, etc.   Our proprietary Puma-Crete
TM
 flooring system includes;  materials,
installation
, and exclusive five year warranty.
Puma-CreteTM flooring is provided with a turn key installation by our professional crews. This heavy duty, seamless, cementitious urethane floor finish is the last floor you will ever need !  With a record of installations from Alaska to Central American, and throughout the 50 states, EP Floors has a 30 year track record of proven durability and lasting floors.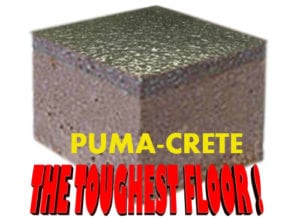 Cold, wet conditions found in seafood coolers are a challenge for typical floor coatings.  Puma-Crete is a 1/4″ to 3/8″ troweled urethane mortar floor, which cures down to 33 deg F.  This allows for curing at low temperatures in a typical seafood environment.  With an optional polyaspartic topcoat, we can also provide enhanced gloss, cleanability and surface that is stain resistant, even while the coolers are operating!
Puma-CreteTM flooring is moisture tolerant.  The optimal temperature for this industrial cooler floor finish is 45 deg F.  This temperature shall dry the concrete and air during installation, yet prevent condensation from saturating the surfaces during installation.  At this temperature, curing shall be complete in 18 hrs.  We also have a proprietary catalyst, which provides faster curing when necessary in seafood cooler rooms.
Puma-CreteTM shall also handle blast freezers, IQF processing areas, and extreme thermal shock conditions. the system must be shutdown and brought to ambient temperature for several days, prior to installation.  Once installed an cured, Puma-Crete withstands blast freezer conditions to provide many years of excellent service.  EP Floors Corp. flooring helps your plant meet strict quality guidelines, mandated by the new Food Safety Modernization Act (FSMA), SQF 2000, HACCP.  It is USDA approved, FDA approved, and shall meet/exceed all Customer Food Safety Audit requirements.
Puma-Crete is chemical resistant flooring (resistant to sanitizing cleaners), and anti microbial flooring (inhibits the growth of bacteria).   This hygienic seamless, sanitary topping features a long-lasting, slip resistant surface. This non-porous floor finish is easy-to-clean….you will pass your inspections with flying colors!
With a non-slip texture, seamless and sanitary finish, Puma-CreteTM  may be installed with options such as:
Sanitary cove base
Trench Drains
Topcoat with enhanced cleanable and gloss surface.

Topcoat available in twelve colors.
For more information on our  Puma-CreteTM seafood flooring, please contact a project consultant, for further information at 800-808-7773