URETHANE CONCRETE FLOORING
Cementitious urethane mortar floors are the latest technology in seamless heavy duty flooring. Applications typically include food & beverage processing, chemical processing, and pharmaceutical.
These systems also protect new flooring systems against bubbling or delamination due to high moisture vapor emissions, and also provide standalone protection as well.

Also known as cementitious urethane flooring or urethane cement flooring, this material excels over epoxy floor systems in food & beverage plants for numerous reasons;  reduces downtime due to single layer system, is durable in harsh environments with thermal shock, and even withstands heavy impact and harsh chemicals.  For new concrete, urethane resurfacers can be applied to concrete after ten days. For food processing plants, the popularity of polyurethane cement mortar systems has now exceeded that epoxy floor coatings and Tufco Flooring, a vinyl ester flooring system. Materials such as Ucrete HF and others have garnered  market share.  These floors are the floor of choice for food & beverage processing industries such as meat, poultry, seafood, bakeries, breweries and beverage, and dairies.  Cement urethane mortar flooring can  withstand years of punishing abuse in these areas.
Compared to epoxy floors, urethane flooring products have enhanced resistance to impact and abuse from dropped pots, steel parts and utensils in industrial kitchens and food plants. They handle repetitive scraping and scratching better than epoxy, acrylic and competitive systems. They are extremely beneficial in plant areas where steel wheels are used, such as bakeries. Urethane mortar floors, when used with an integral cove base, may serve as waterproof flooring, providing a "bathtub effect" in elevated floor areas. Slip resistant even when wet, it has permanent non skid slip resistance, due to a hard wearing aggregate throughout the full thickness of the floor system.
Cementitious urethane mortars  may be applied over concrete, brick or tile, while withstanding severe thermal stresses.  This USDA approved food grade  material withstands moisture and cool temperature, which enables it to be applied on  cold (above 35 deg F.), damp concrete surfaces in operating food plants. These urethane mortar floor systems have virtually no odor. There is no risk of tainting open food products.  Urethane cement flooring is resistant to all chemicals used in food & beverage plants.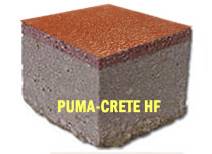 The heaviest duty cementitious urethane overlays are trowelled, and applied at one quarter to three-eighths inch, with a seam free matte finish. This is the Puma-Crete HF urethane system.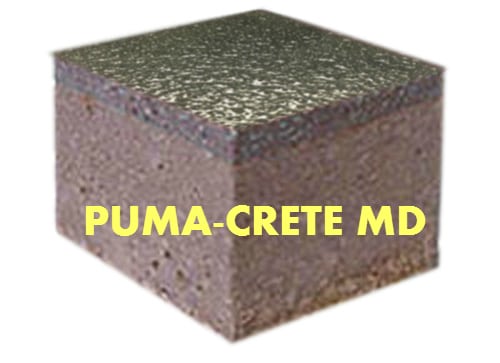 Puma-Crete MD urethane slurry systems are applied a 3/16 to 1/4 inch thickness. The process consists of screed application, broadcasting with natural quartz aggregate, and top coating.  It exhibits a high gloss finish, due to the urethane or epoxy top coating, and has excellent cleanability, and highest aesthetics. Along with a novolac epoxy topcoat, it may be used chemical storage areas, where concentrated spillages occur.
The original brand of urethane mortar floor, Ucrete HF, is the oldest trowel applied urethane, and has been around for almost forty years. The trowelled ¼ inch systems offer the highest level of durability with an expected longevity of at least ten years. A drawback of urethane mortars, is a small price premium upfront, compared to epoxy. Also, the Puma-Crete HF system is available only in a matte finish.  However, this system is the "workhorse" system in the market, with the most durability, and offers the greatest return on investment.