BREWERY SLOPED-TO-DRAIN FLOORING
EP Floors specializes in high performance, slope-to-drain flooring for breweries, micro breweries, and brew pubs.  Typical areas include the brewhouse floors, fermentation areas, and taprooms.  Renovation projects are our specialty !
If you are converting an existing industrial floor space into brewing operations, E P Floors provides A-Z expert consultation on floor sloping and drainage, turn key installation of sloped polymer modified underlayments, curbing, ramp installation and much more.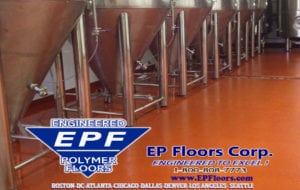 Puma-CreteTM flooring is heavy duty flooring that holds up to thermal shock, heavy duty impact and abuse, is easy to clean and stain resistant, while providing good traction and slip resistance.
Featuring an easy-to-clean, slip resistant texture, and sanitary finish, Puma-CreteTM  may be installed with options such as:
Sanitary cove base
Trench Drains
Topcoat with enhanced cleanable and gloss surface.

Topcoat available in twelve colors.
For more information on our  Puma-CreteTM brewery flooring, please contact a project consultant, for further information at 800-808-7773